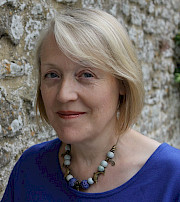 Katherine Langrish
Langrish is the author of several historical fantasies for children and young adults. Her titles include the Viking trilogy Troll Fell, Troll Mill and Troll Blood, and Dark Angels (US title The Shadow Hunt) — a tale of ghosts, elves and hobgoblins set in the Welsh Marches at the end of the 12th century.
With a different hat on, I have contributed essays and reviews to various academic publications, including a paper on the children's books of Mervyn Peake for Miracle Enough, 2012, and an essay on Alan Garner for Erica Wagner's 2016 celebratory anthology, First Light. Most recently I have published Seven Miles of Steel Thistles, 2016, a book of essays on fairy tales and folklore based on the blog of the same name which I created back in 2009.
On the web
Featured in
Mentioned by or in
Authoritative information may be found here.