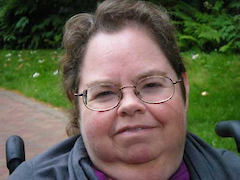 Leslie Donovan
Positions
Leslie A. Donovan, professor, earned her B.A. and M.A. from UNM and her Ph.D. from the University of Washington in Seattle. She completed UNM's Honors program as an undergraduate and studied Early Irish language and literature at University College, Dublin, Ireland, following her M.A. She teaches interdisciplinary humanities courses in early and medieval literatures, creative writing and art, J. R. R. Tolkien, publishing and communications, and future studies. She has been recognized with a number of teaching awards, including UNM's Presidential Teaching Fellowship. She serves as the Faculty Coordinator for UNM's Regents Scholars program and is the Editor of the Mythopoeic Press as well as a member of the Mythopoeic Society's Stewards Council. Her publications include studies on J. R. R. Tolkien, Beowulf, saints' lives, Old Norse mythology, Old English literature, pedagogy, disability studies, and women and gender studies.
On the web
Contact for these current CfPs
2022-05-15: Mythcon 52: The mythic, the fantastic, and the alien: Mythcon 52: The mythic, the fantastic, and the alien
Conferences
Authoritative information may be found here.